PARTICIPATING RESTAURANTS
---
Ambrosia
Ambrosia was founded on the principle that the best food - and the best times of our lives - begin with love. In the Pizzi family kitchen in Liguria, Italy, the dinner table was a treasured space for family and friends.
Since 1979, the Pizzi family, which now includes Gino's daughters Manuela, Anna, and Francesca, has been bringing that same love and commitment to the Ambrosia kitchen. Regular patrons and staff are all part of the family, and first-time visitors are welcomed like old friends.
5903 N College Ave.
Indianapolis, IN 46220
Sunday - 5pm - 9pm
Monday - Thursday 5pm-10pm
Friday - Saturday 5pm-11pm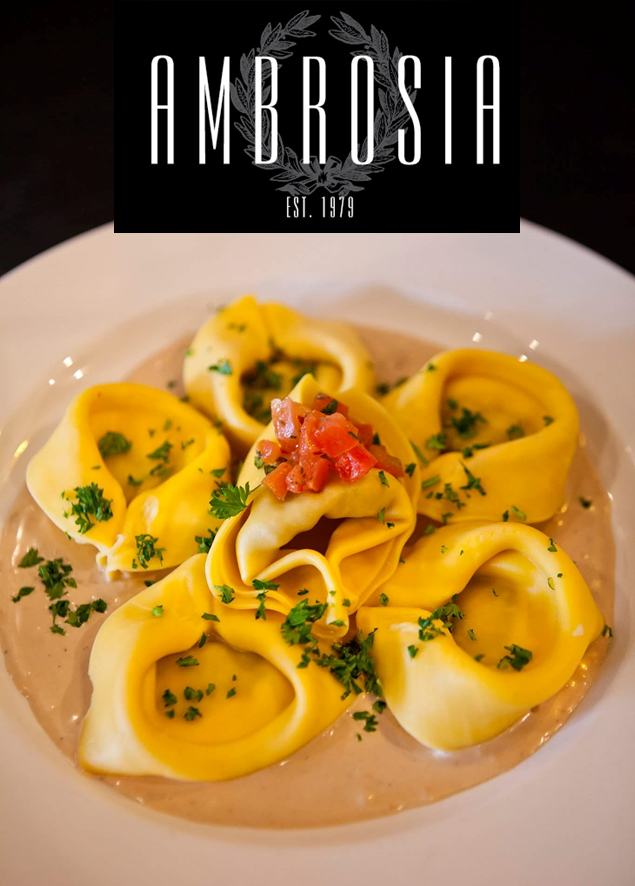 Winterfest 2021
4-Course Menu – $45 Per Person
PRIMI
(Choice of one)
ARANCINI
crispy parmesan risotto balls, on a bed of marinara topped with shaved parmagiano
PROSCUITTO WRAPPED ARTICHOKE
artichoke hearts wrapped with crispy prosciutto, topped with a honey balsamic glaze
INSALATE
(Choice of one)
TRICOLORE
buffalo mozzarella, cucumber, cherry tomato, kalamata olives, red onion, red wine vinaigrette
CESARE
romaine, parmigiana, house-made herbed croutons
PIATTI
(Choice of one)
TORTELLACCI
veal stuff tortellacci, topped with a sweet marsala cream sauce & fontina cheese
SELVAGGIA CASARECCE
casarecce pasta served with a wild mushroom ragu
BRACIOLE DI MAIALE
pan seared, grilled finish pork chop topped with marsala glazed mushrooms, served with green beans
INCROSTATA BRANZINO
almond crushed branzino, topped with a lemon butter cream sauce, served with green beans
DOLCI
(Choice of one)
CANNOLI ALL'ARANCIA
sweet whipped ricotta cheese, zest of orange, dusted with sugar and chocolate
ZEPPOLI
traditional Italian, golden crisp pastry, with ricotta, topped with sugar and melted chocolate
*A glass of Cordero di Montezemolo, Arneis or Ricasoli Barone, Chianti may besubstituted for any one of the courses.
*No Substitutions – Tax & Gratuity Is Not Included