PARTICIPATING RESTAURANTS
---
Ash & Elm Cider Co.
Indy's only restaurant and cider bar, offering scratch-made, locally sourced eats and 14 taps of hand-crafted hard ciders.
Additional Menu Options: Gluten-free, Vegetarian, Family Friendly
---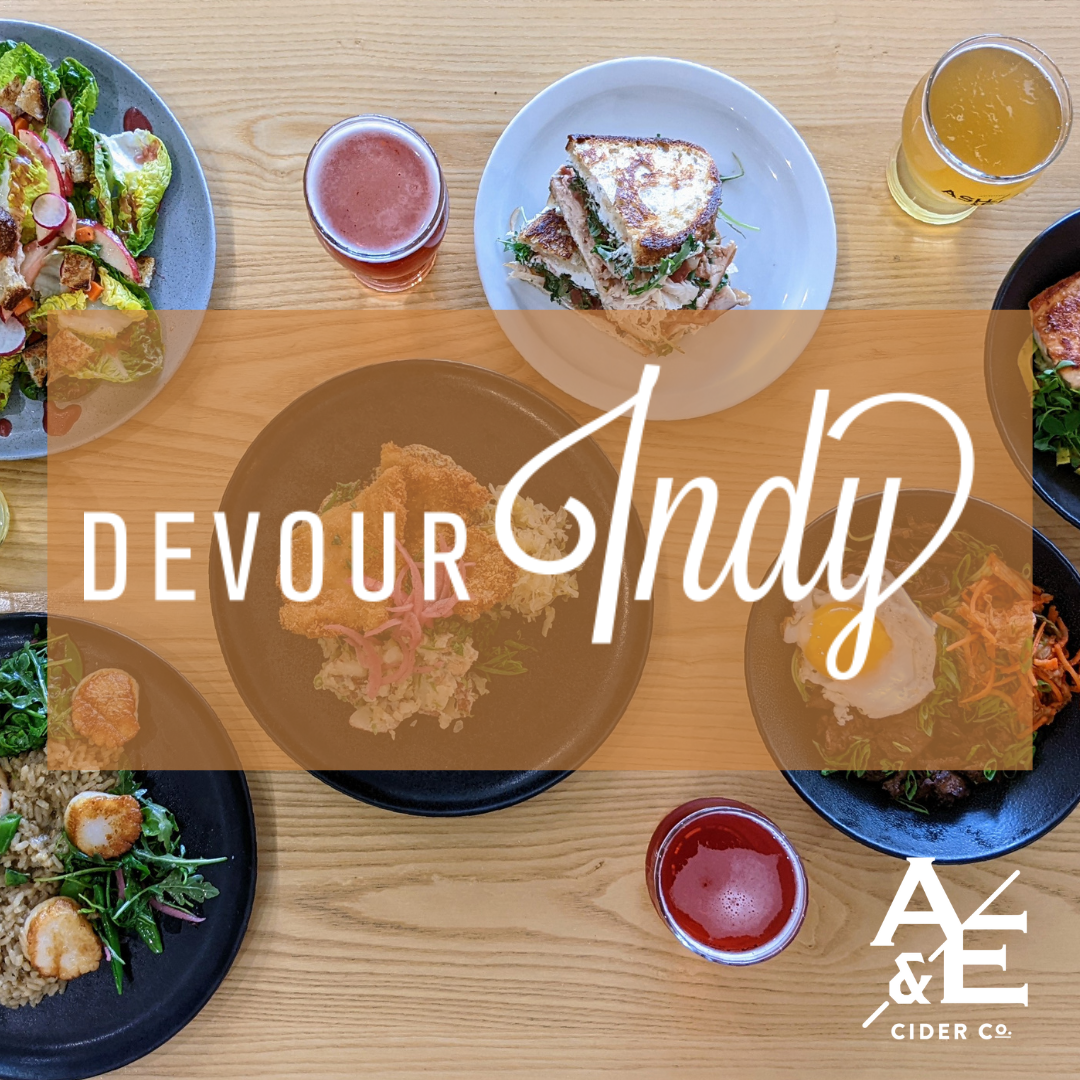 LOCATIONS & HOURS
Downtown
Ash & Elm Cider Co.
1301 E. Washington St.
Indianapolis, Indiana 46202
(317) 600-3164
Tuesdays – Thursdays: 11am – 9pm
Fridays – Saturdays: 11am – 10pm
Sundays: 11am – 8pm
Reservations:
(317) 600-3164
Parking is available in the TWG building lot directly to the west of the building. We also have parking in either of the fenced-in lots south of the Washington and Oriental intersection.
::: LUNCH :::
($12 per person)
Choose one sandwich and either soup, salad or fries as your side.
Single Smash Burger with lettuce, tomato, and pickles
or
½ Smoked Turkey Sandwich with bacon jam, avocado aioli, and lettuce
or
½ Brie & Prosciutto Sandwich
or
½ Cuban Sandwich
::: DINNER :::
$40 per person
— 1st course —
Caesar Salad or Soup of the Day
— 2nd course —
Pork Cheek with Creamy Polenta
or
Tagliatelle alla Bolognese
(Chef's handmade pasta)
or
Risotto with porcini mushrooms
— 3rd course —
Maritozzi
(Italian sweet bun with whipped cream)
or
Chocolate Torte with caramel
::: Curated Cider Flight Parings :::
$11 for four 4-oz pours
With the Pork Cheeks:
– Dry
– Marigold Chai
– Brown Sugar Rum
– Tea & Lemonade
With the Tagliatelle:
– Obscura
– Headlong
– Apricot Honeysuckle
– Dry Barrel Aged
With the Porcini Risotto:
– Juniper Lime
– Semi Sweet
– Dry Barrel Aged
– Tea & Lemonade
::: Curated Cider Flight Parings :::
$11 for four 4-oz pours
With the Pork Cheeks:
– Dry
– Marigold Chai
– Brown Sugar Rum
– Tea & Lemonade
With the Tagliatelle:
– Obscura
– Headlong
– Apricot Honeysuckle
– Dry Barrel Aged
With the Porcini Risotto:
– Juniper Lime
– Semi Sweet
– Dry Barrel Aged
– Tea & Lemonade