PARTICIPATING RESTAURANTS
---
Festiva
Come enjoy an east side getaway at your favorite authentic Mexican joint! Guacamole, Tacos, Enchiladas, YOU NAME IT! We even offer brunch on Sundays! Vegetarian and Vegan options available. We are Family Friendly and accept reservations!
Additional Menu Options: Gluten-free, Vegetarian, Vegan, Dairy-free, Family Friendly
---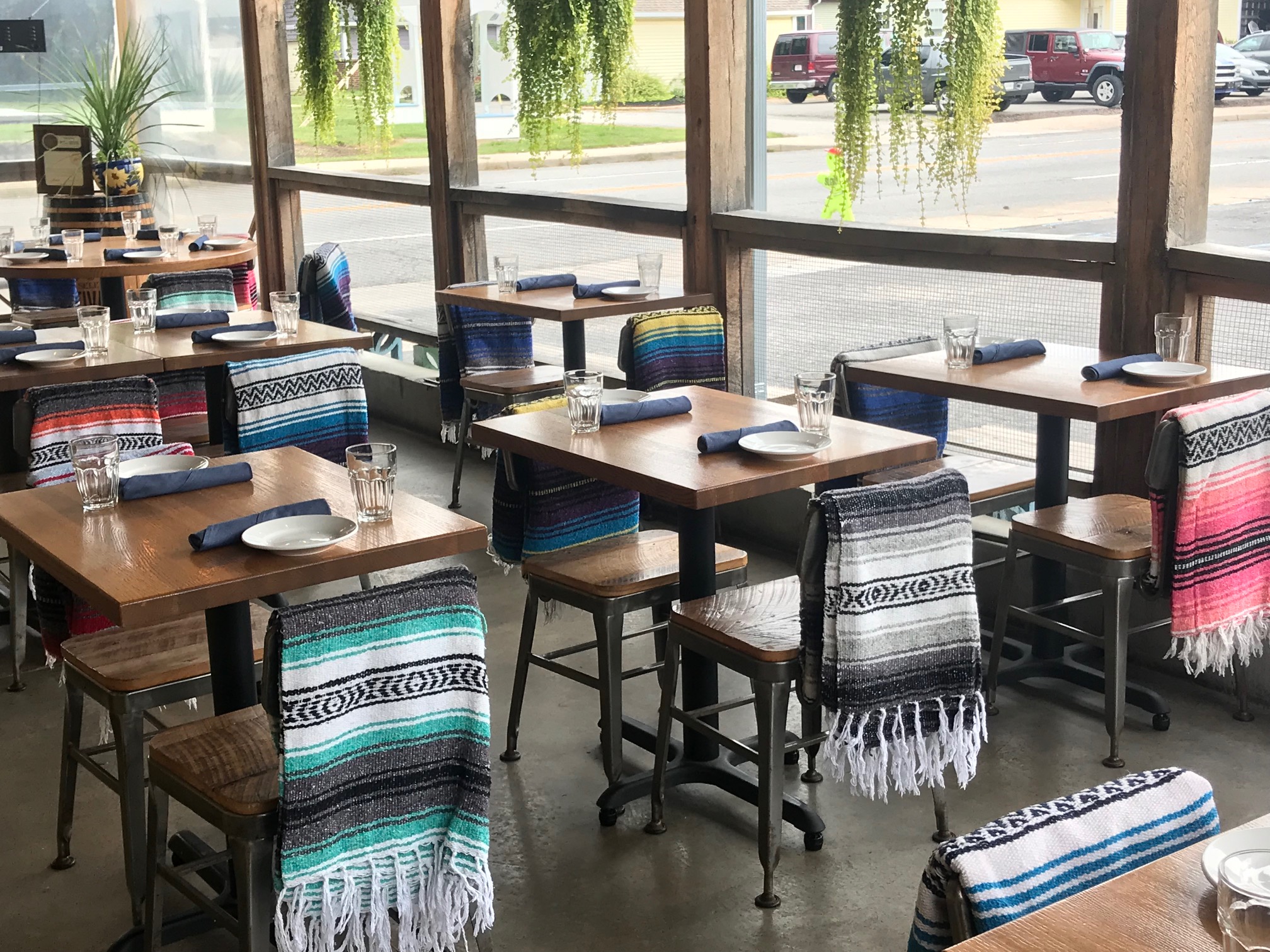 LOCATIONS & HOURS
Downtown
Festiva
1217 E 16th St,
Indianapolis, IN 46202
(317) 635-4444
Tuesday: 4:30 pm – 9:00 pm
Wednesday: 4:30 pm – 9:00pm
Thursday: 4:30 pm – 9:00 pm
Friday: 4:30 pm – 10:00 pm
Saturday: 4:30 pm – 10:00 pm
Sunday BRUNCH: 10:00 am – 2:30 pm
Reservations:
via website, phone & eat app reservations
Small parking lot located on the east side of the restaurant. Street parking available after 6pm and side street parking available always!
DINNER
2 for $60
TWO FESTIVA MARGARITAS
camarena blanco, orange liqueur
lime, lemon, orange, agave
UPGRADE TO PITCHER add $18
ANTOJITO – Choose one
served with chips
GUACAMOLE
avocado, red onion, serrano, pepitas,
pomegranate, jicama, cilantro
TRES CHILES QUESO & SALSA
chilli pepper queso topped with serranos,
roasted tomato, tomatillo, chipotle salsa
PLATO PRINCIPAL – Choose two
ENCHILADAS VEGETARIANO
roasted butternut squash, corn, cauliflower,
jack cheese, mole verdé, sour cream, queso fresco,
cilantro, frijoles de la olla, zucchini sofrito
POLLO CON MOLE ENCHILADAS
chicken tinga, mole poblano, sour cream, queso fresco,
cilantro, radish, frijoles charros, Mexican rice
TACOS DE COCHINITA PIBIL
achiote marinated slow roasted pork, molcajeté salsa,
cilantro, onions, frijoles charros, Mexican rice
TACOS DE CAMARON
salt 'n pepper dredged, caramelized onion-chipotle salsa,
cilantro, onion, frijoles charros, Mexican rice
POSTRE – Choose one
CHURROS
cinnamon sugar dusted, chocolate sauce, dulce de leche
FLAN DE NARANJA
orange scented traditional custard
(ONLY SERVED SUNDAY 10:00am – 2:30pm)
SUNDAY BRUNCH
2 for $50
TWO SPARKLING PALOMAS
camarena blanco tequila, fresh grapefruit juice,
lime juice, squirt soda, topped with Cava
UPGRADE TO A PITCHER add $12
ANTOJITO – Choose one
GUACAMOLE
avocado, red onion, serrano, pepitas,
pomegranate, jicama, cilantro
TRES CHILES QUESO & SALSA
chilli pepper queso topped with serranos,
roasted tomato, tomatillo, chipotle salsa

PLATO PRINCIPAL – Choose two
HUEVOS MOTULEÑOS
two tostadas spread with black beans, eggs your way,
tomato-habañero salsa, ham, plantains, peas, queso fresco
CHILIAQUILES ROJAS OR VERDES
tortilla chips cooked in salsa with cheese,
eggs your way, crema, queso fresco
add grilled chicken breast 4 | skirt steak 6 | adobo shrimp 6
FRENCH TOAST
two pieces of Rene's brioche stuffed with requesón
{Mexican Ricotta}, piloncillo syrup, fresh fruit
BISCUITS & CHORIZO GRAVY
homemade cornbread biscuits, chorizo gravy,
eggs your way, diced avocado, radishes, scallions
CASUELA
cast iron skillet baked with yukon gold roasted potatoes,
carnitas, chipotle salsa, jack cheese, eggs your way
ENCHILADAS VEGETARIANO
roasted butternut squash, corn, cauliflower,
jack cheese, mole verdé, sour cream, queso fresco
MARGARITAS
* on the rocks *
FESTIVA MARGARITA 12 | 42
camarena blanco / orange liqueur
lime / lemon / orange / agave
MARGARITA ESTACIONAL 13 | 46
changes seasonally
LIVIN LA PIÑA LOCA 13 | 48
tanteo habanero tequila / pierre ferrand dry curacao
pineapple / lime / agave / tanteo jalapeño salt
MARGARITA MEJOR 14 | 50
herradura reposado tequila / pierre ferrand dry curacao
lime / lemon / agave / orange blossom water
MARGARITA DEFINITIVO 18
chamucos añejo / grand marnier
lime / lemon / agave

SPECIALTY COCKTAILS 
WALK LIKE A COATI 13
paranubes Mexican rum / cantera negra
banana liqueur / orange liqueur
pineapple / orange / lime / orgeat
CUCAMELON 13
condesa classica Mexican gin / cilantro liqueur
cucumber / honeydew melon
lime / agave / morita chile oil
DAMIANA WILDFIRE 12
banhez joven mezcal
damiana tea simple / lemon / blackberry
mata hari absinthe bohemian
PLAYA DE LOS COCOS 12
plantation 3 star rum / guava / passionfruit
pineapple / orange / lime / orgeat / pierre ferrand
dry curacao / rum haven coconut water rum floater
MEZCAL OLD FASHIONED 13
yuu baal joven mezcal / chocolate mole bitters
orange bitters / demerara / lemon oil
COWBOY HORCHATA 10
pinhook whiskey / homemade horchata
PALOMA 10
camarena blanco tequila / grapefruit / lime / squirt
AFTER DINNER DRINKS
ENCANTO OAXAQUEÑO 12
tso'ok oaxacan rum / kalani coconut liqueur
coconut milk / chocolate bitters
shaved chocolate orange
TRINIDAD SOUR 13
18th st rye / lemon / angostura bitters / orgeat
MEZCAL NEGRONI 13
yuu baal joven / cocchi vermouth di torino
campari / chocolate mole bitters
CAFÉ AU LAIT 11
camarena blanco tequila
cinnamon / simple / caffe amaro
hubbard & cravens cold brew