PARTICIPATING RESTAURANTS
---
LouVino: Fishers
LouVino's menu is comprised of many shareable plates that are heavily influenced from the South and the owner's home state of Georgia. Each location allows the executive chef to use their culinary imagination to create their own seasonal section of the menu. Thus, each location has their own unique menu. LouVino's bar program is known for it's award-winning wine list with more than 60 wines by the glass and wine flights. A wide selection of bourbons, craft beer and cocktails are also available.
8626 E 116th St
Fishers, IN 46038
Tuesday - Saturday 5pm - 9pm
Phone Reservations – (317) 598-5060
Additional Menu Options: Gluten-free, Vegetarian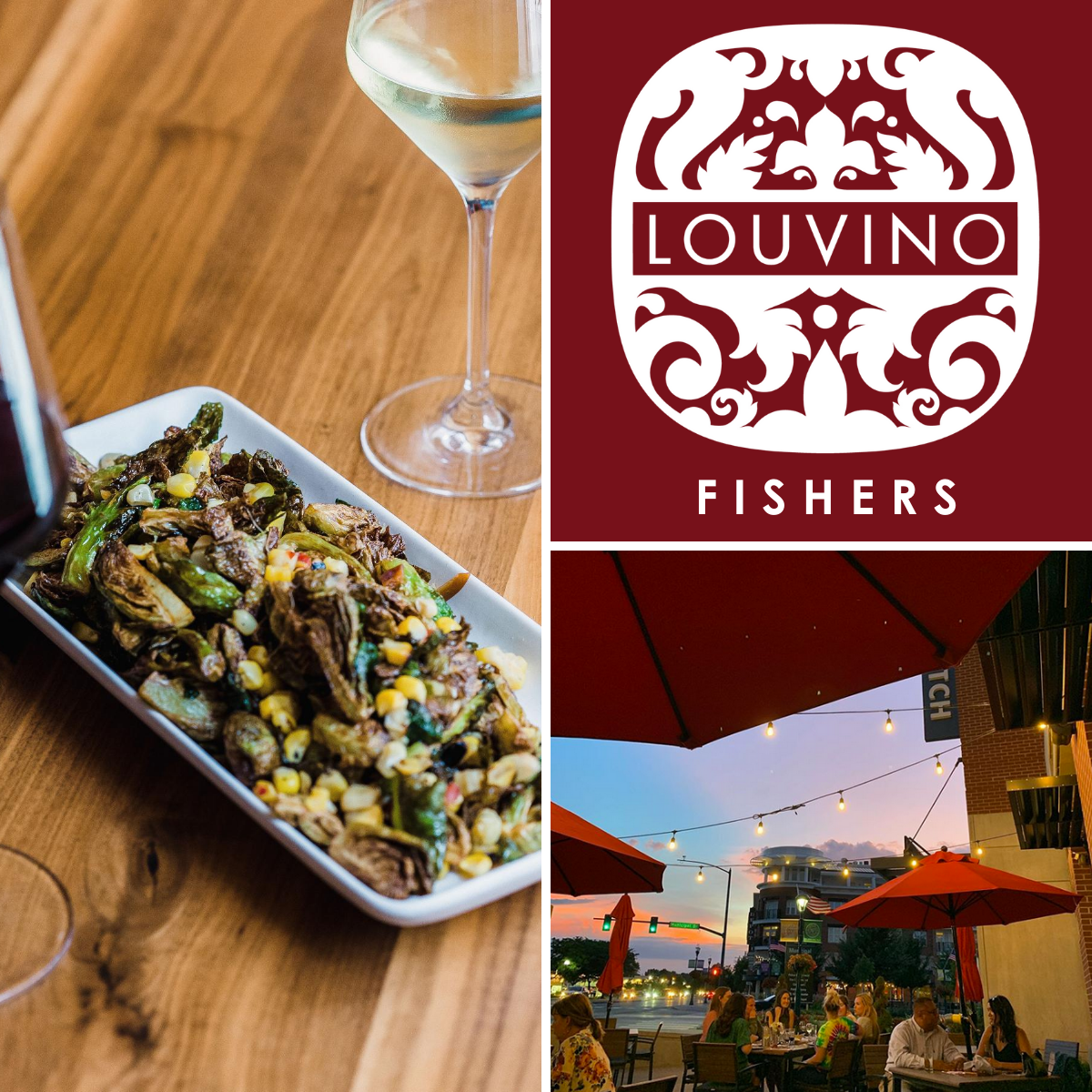 Fishers
Devour Menu WinterFest 2021 ($55 per couple)
First Course (shared)
Hummus and Pickle Plate
house-made garlic hummus, mixed spicy pickles, tostada crisps
Second course (shared)
Warm Brussels Sprouts Salad
cilantro lime vinaigrette, roasted seasonal veggie salsa
Or
Loaded Baked Potato Tots
yukon gold potato, bacon, cheddar, scallion, house ranch
Third course (ea)
Choice of:
Shrimp & Grits
grilled shrimp, charred red pepper & goat cheese grits, chimichurri
Or
Carolina BBQ Chicken
crispy fried chicken drums, carolina style bbq sauce, gorgonzola aioli, celery
Or
Wild Mushroom Risotto (vegetarian)
oyster mushrooms, black truffle, parmesan
Fourth course (shared)
Chocolate Chip Cookie Dough Stuffed Beignets
vanilla anglaise dipping sauce & bourbon chocolate ganache
Devour Menu and Optional Suggested Wine Pairings
Wine pairings are not included in the $55/couple Devour Special
Wine pairing – $22/person or $43/couple
Pairing selections cannot be substituted
Each course will be served (2) 3 ounce pours of the suggested wine pairing, (1) for each person.
Course 1 (shared)
Hummus and pickle plate mixed spicy pickles, house made hummus, crispy tostada
WINE PAIRING: Vidigal Vinho Verde 2019, PT
Course 2 (shared)
Choice of: Brussels Sprouts Salad OR Loaded Baked Potato Tots
WINE PAIRING: Benvolio Prosecco NV, Veneto IT
Course 3 (each)
Choice of: Shrimp and Grits OR Carolina BBQ Chicken OR Risotto
WINE PAIRING: Grochau Cellars Pinot Noir 2018, Willamette Valley OR
Course 4 (shared)
Chocolate Chip Cookie Dough Stuffed Beignets
WINE PAIRING: Eugen Muller 'Vom Basalt' Riesling Kabinett 2018, Pfalz DE