PARTICIPATING RESTAURANTS
---
Nesso Italian Kitchen
Nesso Italian Kitchen highlights the rich flavors and traditions of Italian cuisine. Nesso's menu offers a sampling of seafood, locally sourced meats and vegetables, fresh pasta, and other inspirational plates by the culinary team. Located in The Alexander Hotel in Indianapolis, natural light, high ceilings, and coastal Italian-inspired decor provide an intimate and relaxing dining experience. Nesso Italian Kitchen serves dinner Tuesday through Saturday.
Additional Menu Options: Gluten-free, Vegetarian
---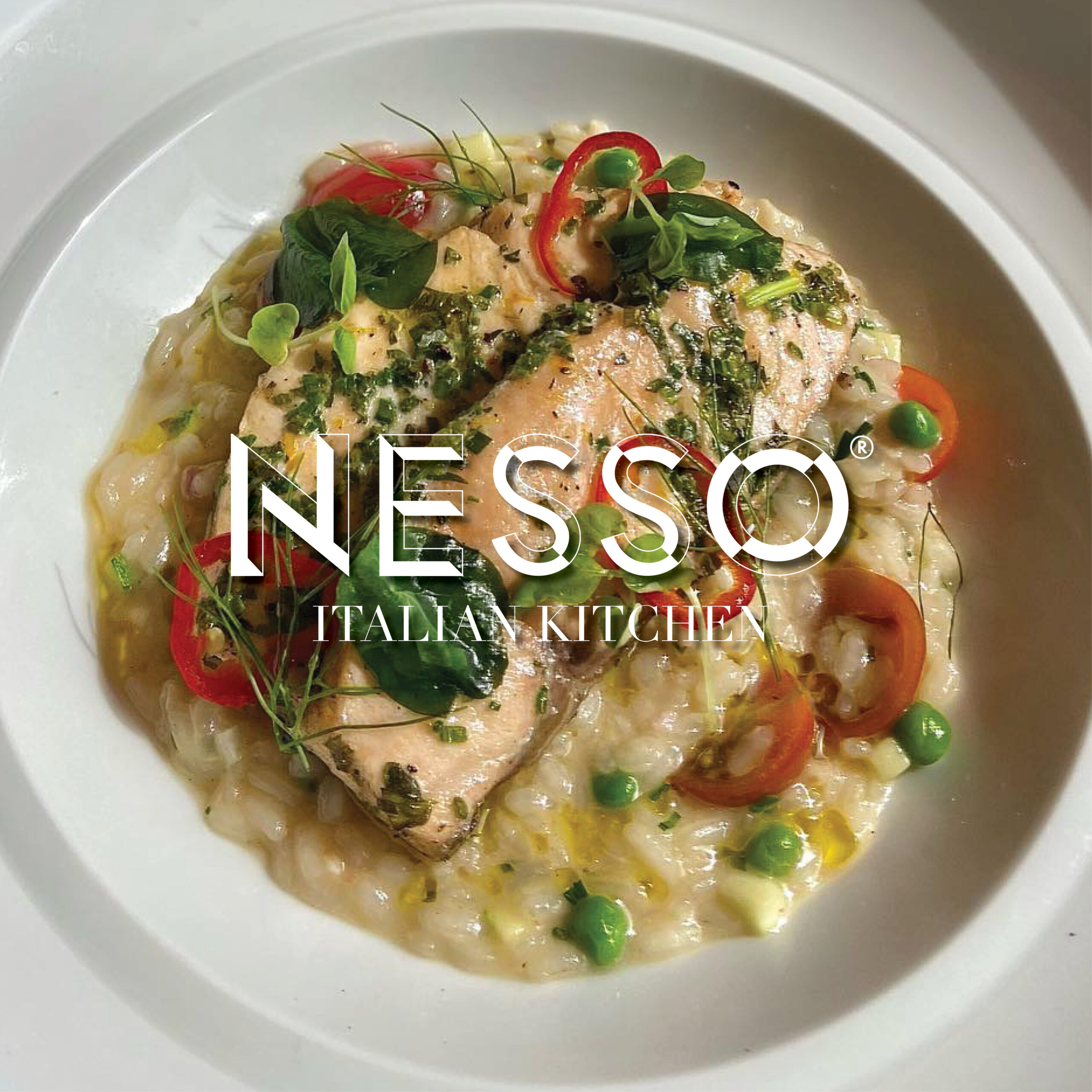 LOCATIONS & HOURS
Downtown
Nesso Italian Kitchen
339 South Delaware Street
Indianapolis, Indiana 46204
317-643-7400
Tues-Thurs: 5:00 PM – 10:00 PM
Fri-Sat: 5:00 PM – 10:00 PM
Sun-Mon: Closed
Serving Dinner only.
Dine In, Carry Out, and Online Ordering Available.
$40 per person / $75 per person with wine pairings
1st Course (Choose One):
Meatball
golden raisin, pine nut, parsley, honey goat cheese, paprika oil
Wine Pairing: 2020 Vino Lauria 'Giardinello' Grillo, Sicily
Octopus
fennel polenta, crispy polenta, fresno aioli, pickled fresno, almond gremolata
Wine Pairing: 2021 Cavalchina Chiaretto, Bardolino
Caesar
charred romaine, anchovy, parmesan
Wine Pairing: NV Bisol 'Crede' Prosecco, Valdobbiadene
Beet Carpaccio
gorgonzola vinaigrette, rosemary walnut, arugula, pecorino, pickled blackberry, pickled mustard seed
Wine Pairing: NV Borgoluce 'Gaiante' Prosecco Rosé, Treviso
2nd Course (Choose One):
Bucatini Amatriciana
guanciale, spicy pomodoro, basil, evoo
Wine Pairing: 2021 Tiberio Cerasuolo d'Abruzzo, Abruzzo
Risotto
swordfish, salmon, and branzino sugo, lemon-spinach cream, zucchini, tomato, shallots, pea
Wine Pairing: 2018 Tenuta Maccan Ribolla Gialla, Friuli
Eggplant Rollatini
ricotta, parmesan, pepper, and oregano filling, pomodoro, parmesan, frico, potato fritter
Wine Pairing: 2020 Fratelli Ravello Barbera d'Alba, Piedmont
Pork Loin
balsamic, thyme, fennel-arugula salad, apricot gel, arugula and walnut pesto
Wine Pairing: 2019 Cà dei Frati 'Brolettino' Turbiana, Lombardy
3rd Course (Choose One):
Tiramisu 
Nutella Budino
salted hazelnuts, orange honeycomb
Wine Pairing for both desserts – 2007 Florio 'Targa' Marsala Riserva, Sicily
$40 per person / $75 per person with wine pairings
1st Course (Choose One):
Meatball
golden raisin, pine nut, parsley, honey goat cheese, paprika oil
Wine Pairing: 2020 Vino Lauria 'Giardinello' Grillo, Sicily
Octopus
fennel polenta, crispy polenta, fresno aioli, pickled fresno, almond gremolata
Wine Pairing: 2021 Cavalchina Chiaretto, Bardolino
Caesar
charred romaine, anchovy, parmesan
Wine Pairing: NV Bisol 'Crede' Prosecco, Valdobbiadene
Beet Carpaccio
gorgonzola vinaigrette, rosemary walnut, arugula, pecorino, pickled blackberry, pickled mustard seed
Wine Pairing: NV Borgoluce 'Gaiante' Prosecco Rosé, Treviso
2nd Course (Choose One):
Bucatini Amatriciana
guanciale, spicy pomodoro, basil, evoo
Wine Pairing: 2021 Tiberio Cerasuolo d'Abruzzo, Abruzzo
Risotto
swordfish, salmon, and branzino sugo, lemon-spinach cream, zucchini, tomato, shallots, pea
Wine Pairing: 2018 Tenuta Maccan Ribolla Gialla, Friuli
Eggplant Rollatini
ricotta, parmesan, pepper, and oregano filling, pomodoro, parmesan, frico, potato fritter
Wine Pairing: 2020 Fratelli Ravello Barbera d'Alba, Piedmont
Pork Loin
balsamic, thyme, fennel-arugula salad, apricot gel, arugula and walnut pesto
Wine Pairing: 2019 Cà dei Frati 'Brolettino' Turbiana, Lombardy
3rd Course (Choose One):
Tiramisu 
Nutella Budino
salted hazelnuts, orange honeycomb
Wine Pairing for both desserts – 2007 Florio 'Targa' Marsala Riserva, Sicily