PARTICIPATING RESTAURANTS
---
The Melting Pot
Stop by The Melting Pot to see just what everyone is talking about when it comes to gourmet fondue. We offer a fine dining experience that capitalizes on casual meals around the table. Connect with long-lost friends on a special night in town, or treat your one-and-only to a romantic date and delicious fondue dessert. Nothing shows you care more than a pot of melted cheese and chocolate—and a tall glass of wine doesn't hurt either. In fact, all of our culinary treats are sure to hit the spot. Flavors from around the world, fresh seafood straight from the coast, tender cuts of meat prepared by our chefs - all on the menu at The Melting Pot.
5650 E. 86th St. Suite A
Indianapolis, IN 46250
http://www.meltingpot.com/indianapolis-in
https://www.yelp.com/biz/the-melting-pot-indianapolis-2
Wednesday & Thursday: 4pm-9pm
Friday: 4pm-10pm
Saturday: 12pm-10pm
Sunday: 12pm-9pm
Phone Reservations – (317) 841-3601
Additional Menu Options: Gluten-free, Vegetarian, Vegan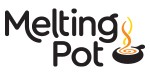 Choose one option from each course for $32 per person. Entree sharing option is not available from this menu. Vegan/vegetarian options available upon request. Tax and gratuity not included.
CHEESE FONDUE
Classic Alpine
Gruyere, Raclette, Fontina, White Wine, Garlic, Nutmeg
Spinach Artichoke
Butterkase, Fontina, Parmesan, Spinach, Artichoke Hearts, Garlic
Wisconsin Cheddar
Aged Cheddar, Emmenthaler, Sam Adams Boston Lager, Garlic, Spices
SALAD
Caesar
Romaine, Parmesan, Croutons, Caesar Dressing, Parmesan-Dusted Pine Nuts
California
Mixed Greens, Candied Pecans, Gorgonzola, Tomatoes, Raspberry Walnut Vinaigrette
Melting Pot House
Romaine, Iceberg, Cheddar, Tomatoes, Croutons, Scallions, Egg, Choice of Dressing
ENTREE
Selection 1
Cajun Filet Mignon, Cajun Chicken, Cajun Shrimp, Atlantic Salmon
Selection 2
Filet Mignon, Herb-Crusted Chicken, Shrimp
Selection 3
Teriyaki-Marinated Sirloin, Honey Orange Duck Breast, Shrimp, Wild Mushroom Sacchetti
CHOCOLATE FONDUE
Flaming Turtle
The creamy flavor of milk chocolate is melted with caramel, flambeed, and topped with candied pecans.
The Original
The smooth flavor of milk chocolate is melted with crunchy peanut butter.
Yin & Yang
The decadent and buttery flavors of dark and white chocolate fondue are artfully swirled together.