PARTICIPATING RESTAURANTS
---
Diavola
Diavola is a locally owned, award-winning, Italian restaurant, pizzeria and wine bar serving handcrafted Italian-style pizzas and housemade pastas with the freshest of ingredients. Every sauce, pasta and dough options are made in house daily with love and attention! We now offer a FULL BAR specializing in an array of classic cocktails, a delicious variety of wines and have 6 beer taps with 5 local breweries on rotation. We are always kiddo friendly and welcome your furry friends on the patio, weather permitting. A great place for gathering, we look forward to seeing you as you Devour Indy!
Additional Menu Options: Gluten-free, Vegetarian, Vegan, Dairy-free
---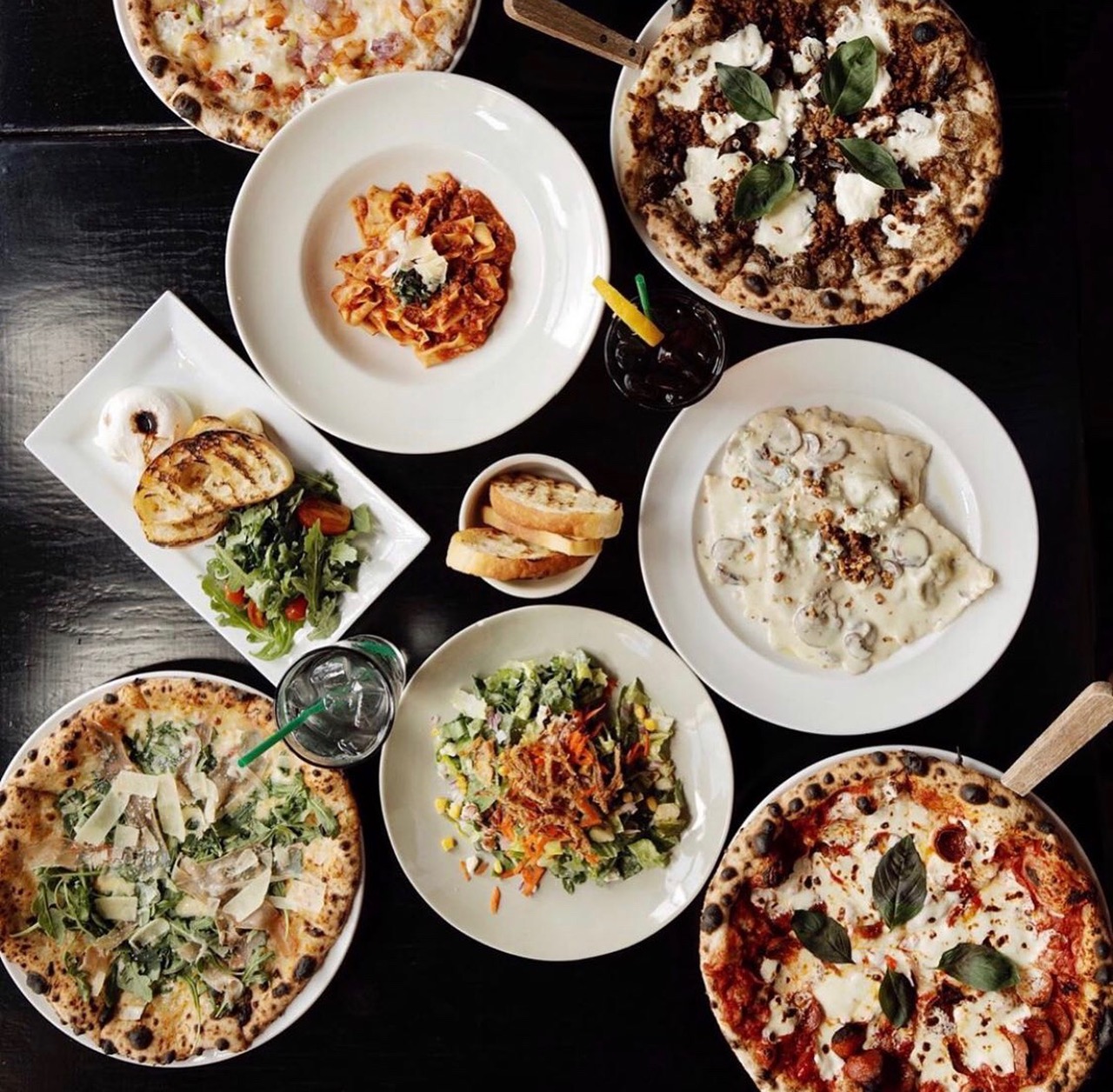 LOCATIONS & HOURS
Midtown
Diavola
1134 E 54th St, Ste. I
Indianapolis, IN 46220
(317) 820-5100
Tuesday – Saturday  5pm – 10pm (last seating at 10pm)
Sunday – Monday  5pm – 9pm (last seating at 9pm)
Reservations:
via our website: diavola.net via OpenTable or by phone 317-820-5100
Diavola has ample parking within our lot at the Monon Shoppes as well as the lot across the street from the restaurant, during business hours.
DEVOUR SPECIAL
*a broad sampling of some of our favorites*
3-COURSE DINNER ~ $75 FOR TWO GUESTS
3-COURSE DINNER PLUS VINO ~ $105 FOR TWO GUESTS
***vino options of Tiziano Chianti, Due Torri Pinot Grigio or Prosecco***
FIRST COURSE
Choose One: 
ANT I P A S T I
CAPRINO (v)
baked goat cheese, pomodoro sauce, grilled Italian bread
POLPETTE
nonna's meatballs, pomodoro sauce, shaved parmesan, grilled Italian bread
BRUSCHETTA (v)
fresh tomato, basil, garlic, shaved parmesan atop grilled Italian bread
SECOND COURSE
Choose Any Two:
 I N S A L A T A
 CAESER
romaine, parmesan, house-made herbed croutons, classic caesar dressing
MISTA (v)
organic mixed greens, diced herbed tomatoes, gorgonzola, balsamic dressing
RUCOLA (v)
fresh arugula tossed with shaved parmesan, red onion, lemon vinaigrette
THIRD COURSE
Choose Any Two:
P I Z Z A
 MARGHERITA (v)
pomodoro sauce, fresh mozzarella, basil
DIAVOLA
pomodoro sauce, fresh mozzarella, pepperoni, basil, peppadew pepper, olive oil
LA SOPHIA (v)
salsa bianca, burrata, soleggiati tomato, kalamata olive, basil
TRUFFLE FUNGHI
truffle oil, burrata, Italian sausage, roasted mushroom, garlic, basil
CLASSICO
pomodoro sauce, fresh mozzarella, pepperoni, Italian sausage, roasted mushroom
GENOVESE
pesto, fresh mozzarella, grilled chicken, sun-dried tomato, caramelized onion
P A S T A
PAPPARDELLE BOLOGNESE
fresh housemade pasta and traditional Italian bolognese sauce, parmesan, basil
TRICOLORE PAPPARDELLE (v)
fresh housemade pasta and basil pesto, mozzarella pearls, kalamata olives, tomato, basil
NOTE ***all pizzas and pastas have a gluten-free option available, made scratch, in-house, with additional vegan options available upon reuest***
DEVOUR SPECIAL
*a broad sampling of some of our favorites*
3-COURSE DINNER ~ $75 FOR TWO GUESTS
3-COURSE DINNER PLUS VINO ~ $105 FOR TWO GUESTS
***vino options of Tiziano Chianti, Due Torri Pinot Grigio or Prosecco***
FIRST COURSE
Choose One: 
ANT I P A S T I
CAPRINO (v)
baked goat cheese, pomodoro sauce, grilled Italian bread
POLPETTE
nonna's meatballs, pomodoro sauce, shaved parmesan, grilled Italian bread
BRUSCHETTA (v)
fresh tomato, basil, garlic, shaved parmesan atop grilled Italian bread
SECOND COURSE
Choose Any Two:
 I N S A L A T A
 CAESER
romaine, parmesan, house-made herbed croutons, classic caesar dressing
MISTA (v)
organic mixed greens, diced herbed tomatoes, gorgonzola, balsamic dressing
RUCOLA (v)
fresh arugula tossed with shaved parmesan, red onion, lemon vinaigrette
THIRD COURSE
Choose Any Two:
P I Z Z A
 MARGHERITA (v)
pomodoro sauce, fresh mozzarella, basil
DIAVOLA
pomodoro sauce, fresh mozzarella, pepperoni, basil, peppadew pepper, olive oil
LA SOPHIA (v)
salsa bianca, burrata, soleggiati tomato, kalamata olive, basil
TRUFFLE FUNGHI
truffle oil, burrata, Italian sausage, roasted mushroom, garlic, basil
CLASSICO
pomodoro sauce, fresh mozzarella, pepperoni, Italian sausage, roasted mushroom
GENOVESE
pesto, fresh mozzarella, grilled chicken, sun-dried tomato, caramelized onion
P A S T A
PAPPARDELLE BOLOGNESE
fresh housemade pasta and traditional Italian bolognese sauce, parmesan, basil
TRICOLORE PAPPARDELLE (v)
fresh housemade pasta and basil pesto, mozzarella pearls, kalamata olives, tomato, basil
NOTE ***all pizzas and pastas have a gluten-free option available, made scratch, in-house, with additional vegan options available upon reuest***