PARTICIPATING RESTAURANTS
---
divvy
Locally owned by husband & wife team, Kevin 'Woody' & 'Chef' Richelle Rider. divvy's contemporary American small plate menu features taster tours to enjoy.
The three-course sharing plates menu offers a starter, a five selection sampler and dessert taster tour per guest to enjoy. ​We didn't leave anybody out. There are gluten-free, dairy-free and vegan selections too. No excuses! Gather your friends. You don't want to miss this!
Divvy's lunch tour boards have taster sampler portions of our favorites. ​The meal includes our infamous handmade caramel bye-bye treat for an afternoon pick me up.
71 W. City Center Drive
Carmel, IN 46032
Monday - Thursday 11am - 10pm
Friday - Saturday 11am - 11pm
Phone Reservations – (317) 706-0000
Additional Menu Options: Gluten-free, Vegetarian, Vegan, Dairy-free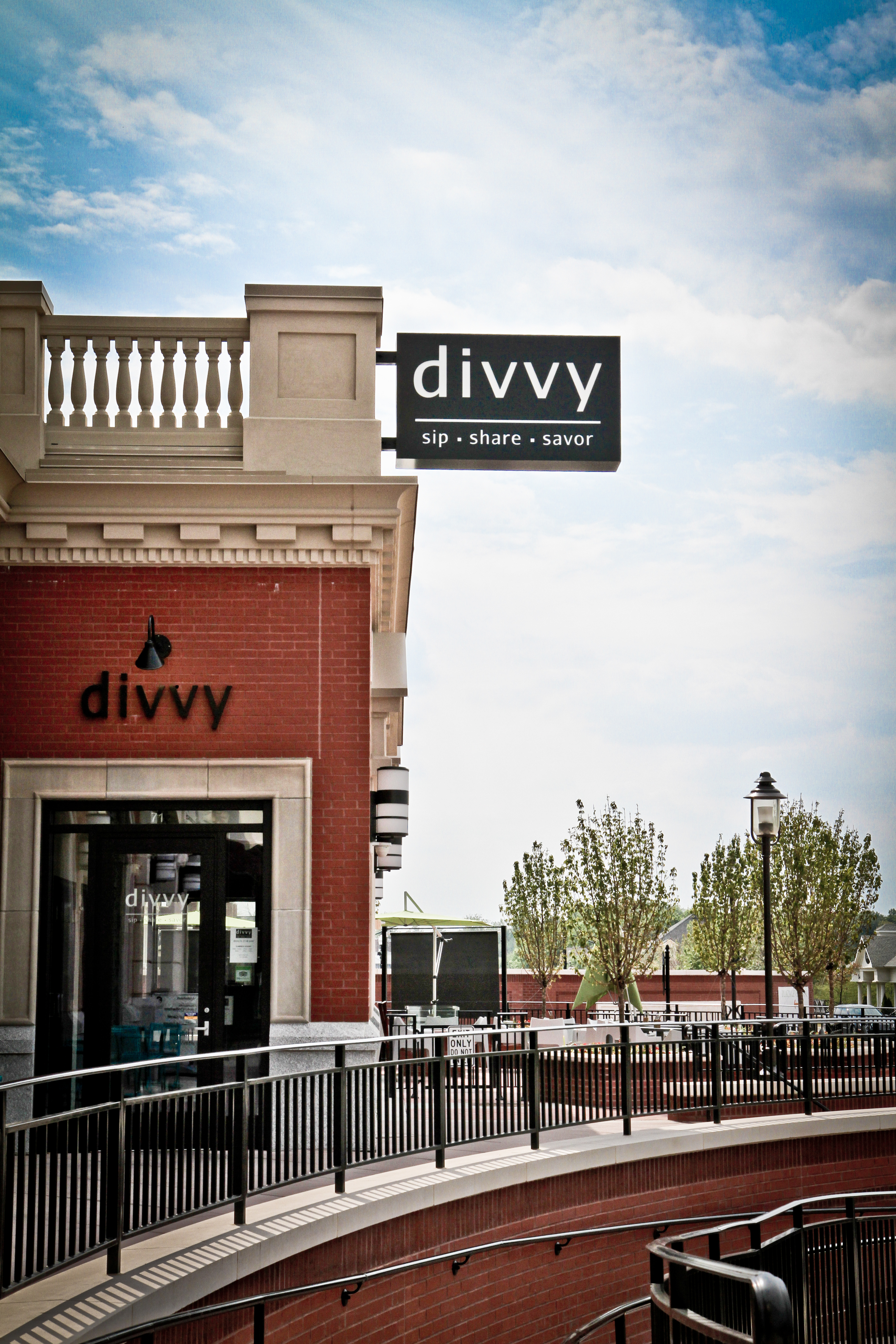 Welcome to Devour Indy Summerfest at divvy
available dine-in 11am – 5pm only; no substitutions
select a Lunch Taster Tour Board
Lunch Favorites Tour Board $15
sampler portions; no substitutions
BRISKET TACO ⒹⒼ
bourbon braised, Southern white creamy bbq, jalapenos,
pickled onions & corn tortilla
CORN CRÈME BRULÉE
creamy style, jalapenos, Parmesan & red sea salt
CHICKEN MINI
shredded breast meat, Brie & blackberry bbq
BLISTERED BRUSSELS SPROUTS ⒹⒼⓋ
red pepper flakes, pine nuts & roasted garlic
FRUIT CUP ⒹⒼⓋ
apples, blueberries, pineapple, grapes & strawberries
Vegetarian Lunch Tour Board $15
sampler portions; no substitutions
VEGAN CHEDDAR ⒹⒼⓋ
cashew cheese spread & gluten-free flatbread
BUFFALO BITES ⒹⒼⓋ
hot tossed cauliflower & vegan cucumber ranch
BLISTERED BRUSSELS SPROUTS ⒹⒼⓋ
red pepper flakes, pine nuts & roasted garlic
POLENTA FRITTERS ⒹⒼⓋ
signature divvy dust, fresh chives & Caribbean sauce
ROASTED GARDEN TACO ⒹⒼⓋ
corn tortilla, broccoli, carrots, mushrooms,
red peppers, pepitas & avocado verde
Welcome to Devour Indy Summerfest at divvy
available dine-in all day; no substitutions
select a three-course taster tour value menu
TASTE $33
Tidbit starter
edamame hummus & wonton crisps
Course 2: sampler portions served on a slate board
salmon canapes  Nova lox, citrus agave goat cheese, radish, cucumbers, capers, Champagne vinaigrette & toasted baguettes
tenderloin filet ⒹⒼ signature divvy dust, red wine reduction, balsamic glaze & crispy arugula
corn crème brulèe Ⓓ creamy style, jalapenos, Parmesan & red sea salt
quatro puffs four cheese stuffed pastries with green goddess ranch
deviled eggs ⒹⒼ radish sprouts, Thai chili & wasabi spiced
Dessert duo
vanilla glazed white chocolate blondie & whipped cream
frozen chocolate mousse, peanut butter glaze & caramel
SAVOR $31
Tidbit starter
tapenade ⒹⓋ Kalamatas, green olives & lemon with pretzel crostinis
Course 2: sampler portions served on a slate board
whipped feta, grilled rustic bread, Chilean olive oil & cucumbers
sizzlin' shrimp ⒹⒼ jalapenos, bacon, blackberry bbq & signature divvy dust
blistered Brussels sprouts ⒹⒼⓋ red pepper flakes, pine nuts & roasted garlic
porterhouse teasers Ⓖ smoky sea salt, garlic butter, grilled NY strip & tenderloin
brulèed brie black mission fig jam, apples, agave & pretzel crostinis
Dessert duo Ⓖ
vanilla bean creme brulée & strawberries
brandy alexander poppable, whipped cream & nutmeg
Ⓖ gluten-free upon request  (substitute flatbread)
VEGETARIAN $25
Tidbit starter
avocado verde ⒹⒼⓋ blue tortilla chips
Course 2: sampler portions served on a slate board
vegan cheddar cashew cheese spread & gluten-free flatbread  ⒹⒼⓋ
buffalo bites ⒹⒼⓋ hot tossed cauliflower & vegan cucumber ranch
blistered Brussels sprouts ⒹⒼⓋ  red pepper flakes, pine nuts & roasted garlic
polenta fritters ⒹⒼⓋ  signature divvy dust, fresh chives & Caribbean sauce
roasted garden taco ⒹⒼⓋ  corn tortilla, broccoli, carrots, mushrooms, red peppers,  pepitas & avocado verde
Dessert duo  ⒹⒼⓋ
coconut milk vanilla ice cream & strawberries
dark chocolate truffle with amaretto & almondmilk liqueur
VEGETARIAN $25
The Vegetarian three-course meal is also dairy-free & gluten-free
Tidbit starter
avocado verde ⒹⒼⓋ blue tortilla chips
Course 2: sampler portions served on a slate board
vegan cheddar cashew cheese spread & gluten-free flatbread  ⒹⒼⓋ
buffalo bites ⒹⒼⓋ hot tossed cauliflower & vegan cucumber ranch
blistered Brussels sprouts ⒹⒼⓋ  red pepper flakes, pine nuts & roasted garlic
polenta fritters ⒹⒼⓋ  signature divvy dust, fresh chives & Caribbean sauce
roasted garden taco ⒹⒼⓋ  corn tortilla, broccoli, carrots, mushrooms, red peppers,  pepitas & avocado verde
Dessert duo  ⒹⒼⓋ
coconut milk vanilla ice cream & strawberries
dark chocolate truffle with amaretto & almondmilk liqueur