PARTICIPATING RESTAURANTS
---
noah grant's grill house and oyster bar
noah grant's, locally owned and operated, offers East Coast sophistication in charming Downtown Zionsville. Our menu specializes in Fresh Seafood, Certified Angus Beef, Sushi, Burgers and East and West Coast Oysters.
Additional Menu Options: Gluten-free
---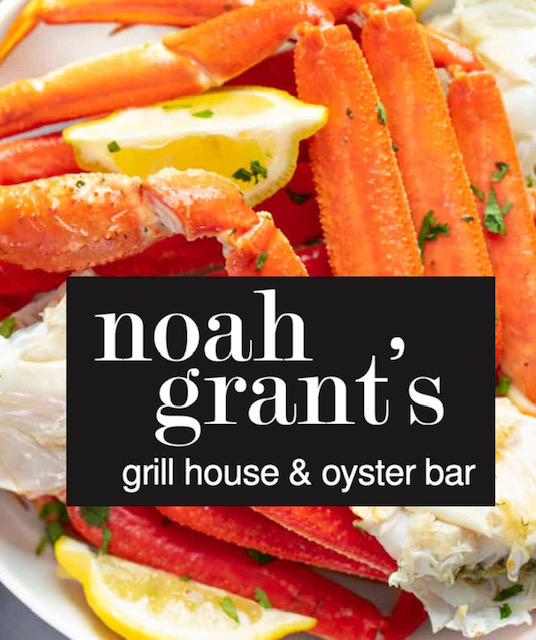 LOCATIONS & HOURS
Northside
noah grant's grill house and oyster bar
91 S Main St,
Zionsville, IN 46077
(317) 732-2233
Monday- Closed
Tuesday- Saturday 4pm – 10pm
Sunday 4-9 pm
DEVOUR DINNER MENU
$39  PER PERSON    Does not include tax & gratuity. No substitutions, please.
FIRST COURSE   Choice of:
Shrimp & Crab Bisque, French Onion Soup, Wedge Salad,
3 Jumbo Shrimp Cocktail with tequila lime cocktail sauce, Caribbean Kyle Sushi Roll, Blue Point Sushi Roll,
Monster Sushi Roll or Ice & Spice Oysters
SECOND COURSE Choice of:
Seafood Cioppino savory tomato & herb stew with shrimp, salmon, mahi,  grouper, crawfish & mussels
Steak Caprese 9 oz. baseball cut sirloin topped with fresh mozzarella, basil, tomatoes & balsamic reduction with a baked scalloped spinach & ricotta potato roll with alfredo sauce
6 oz. filet add noah's bourbon peppercorn sauce (+$5)  blue cheese crème (+$4) lobster cream sauce (+$5)
 noah's Bibimbap sweet & savory soy marinated steak, Gulf shrimp, peppers & onions, fried rice topped with a fried egg
 Seafood Pasta blackened mahi mahi, Gulf shrimp, Maine mussels, Louisiana crawfish,
roasted red peppers, honey cajun cream sauce
Short Ribs with parmesan risotto & green beans with walnuts, bacon & goat cheese
Snow Crab Legs with clarified lobster butter
Fish 'n Chips beer battered Pacific cod & pier fries
THIRD COURSE Choice of:
  Bread Pudding with Wild Turkey honey bourbon glaze, Key Lime Pie Jar with oreo crust, Ghirardelli Brownie served à la mode
Key Lime Pie Martini (+$5)
Espresso Martini (+$5)