PARTICIPATING RESTAURANTS
---
Peterson's Restaurant
Peterson's is an independent restaurant renowned for their prime steaks, fresh seafood and prestigious wine library.
Included in every Indianapolis Monthly "Best Restaurant" issue since opening in 1999, Peterson's has earned multiple Wine Spectator honors for "Best of Award of Excellence", Open Table "Diner's Choice" awards and numerous other accolades for superior service and upscale American cuisine. "A-list" Chef Dave Foegley, (former Executive Chef for St. Elmo/Harry & Izzy's), leads the culinary team.
7690 E. 96th Street, Fishers, IN 46038
http://www.petersonsrestaurant.com
Monday-Saturday 4:30pm-10pm
Closed Sundays
Phone Reservations – (317) 598-8863
Additional Menu Options: Gluten-free, Vegetarian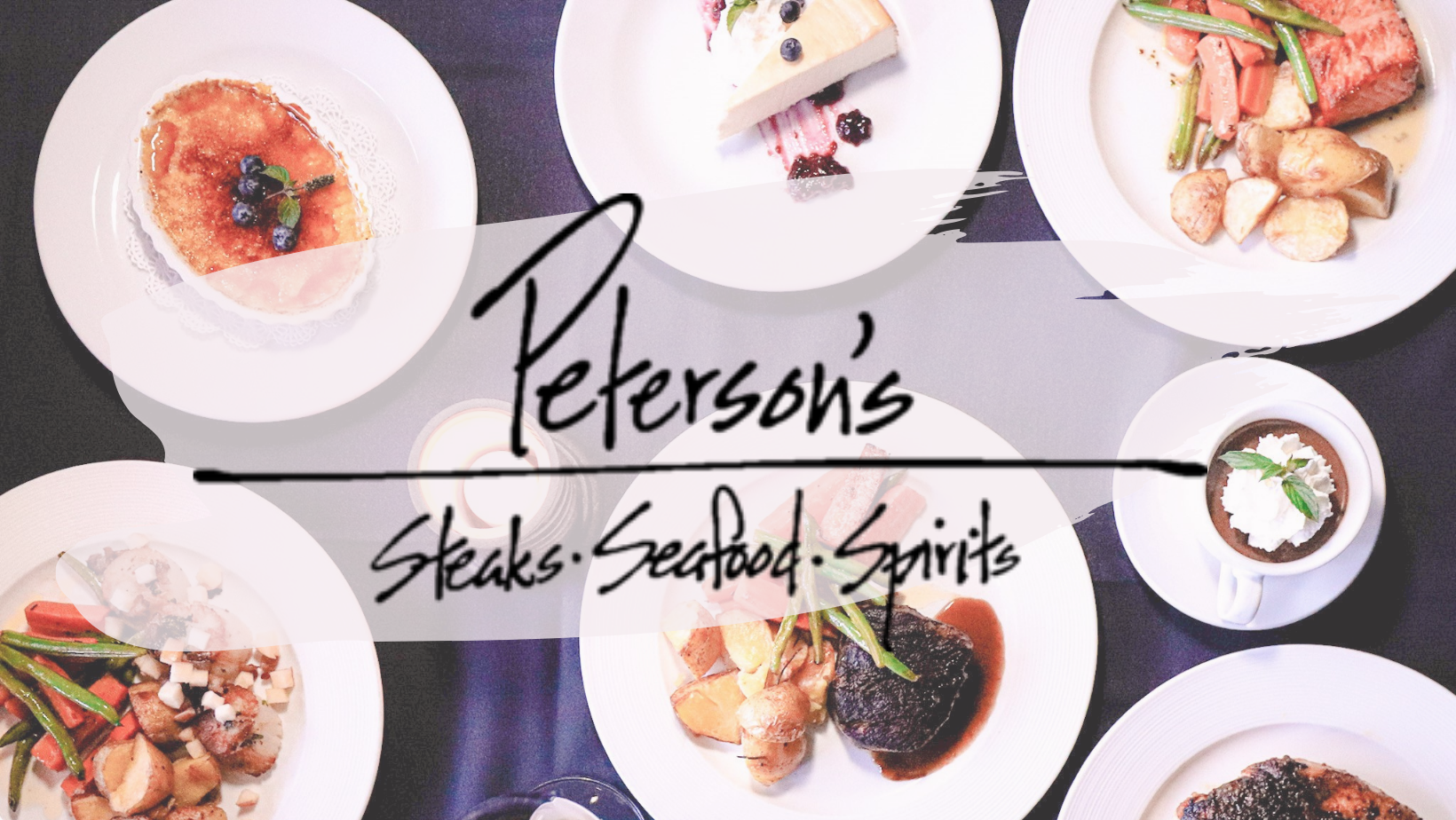 3 COURSE PRIX FIXE MENU FOR $49
FIRST COURSE choice of
MAINE LOBSTER BISQUE   Sherry, Chives, Herb Infused Oil
STEAKHOUSE CAESAR    Romaine, Shaved Parmesan, Herb Croutons, Caesar Dressing
MINI LUMP CRAB CAKE   Stone Ground Mustard, Red Pepper Coulis, Parsley Aioli
PRIME RIB EGGROLL   Wasabi Horseradish Aioli, White Cheddar, Scallions, Soy Jus
SECOND COURSE choice of
Served with Fresh Green Beans, Carrots & Mashed Potatoes
ORA KING SALMON    Tarragon & Dill Beurre Blanc
D'ARTAGNAN AIRLINE CHICKEN BREAST    Maple Mustard Glaze
JUMBO SEA SCALLOPS   Apple Relish, Crisp Pancetta
CENTER CUT FILET MIGNON   6 oz, Cabernet Veal Jus
Choose an 8 oz Filet for $12 More
THIRD COURSE choice of
WHITE CHOCOLATE CRÈME BRÛLÉE   Cinnamon Cream, Fresh Berries
ELI'S CHICAGO STYLE CHEESECAKE    Triple Berry Compote, Whipped Cream
DOUBLE CHOCOLATE BROWNIE     Vanilla Ice Cream, Chocolate & Caramel Sauce
Vegetarian options available upon request.
3 COURSE PRIX FIXE MENU FOR $49
Order Carryout Online HERE or call 317-598-8863
FIRST COURSE choice of
MAINE LOBSTER BISQUE   Sherry, Chives, Herb Infused Oil
STEAKHOUSE CAESAR    Romaine, Shaved Parmesan, Herb Croutons, Caesar Dressing
MINI LUMP CRAB CAKE   Stone Ground Mustard, Red Pepper Coulis, Parsley Aioli
PRIME RIB EGGROLL   Wasabi Horseradish Aioli, White Cheddar, Scallions, Soy Jus
SECOND COURSE choice of
Served with Fresh Green Beans, Carrots & Mashed Potatoes
ORA KING SALMON    Tarragon & Dill Beurre Blanc
D'ARTAGNAN AIRLINE CHICKEN BREAST    Maple Mustard Glaze
JUMBO SEA SCALLOPS   Apple Relish, Crisp Pancetta
CENTER CUT FILET MIGNON   6 oz, Cabernet Veal Jus
Choose an 8 oz Filet for $12 More
THIRD COURSE choice of
WHITE CHOCOLATE CRÈME BRÛLÉE   Cinnamon Cream, Fresh Berries
ELI'S CHICAGO STYLE CHEESECAKE    Triple Berry Compote, Whipped Cream
DOUBLE CHOCOLATE BROWNIE     Vanilla Ice Cream, Chocolate & Caramel Sauce
FEATURE COCKTAILS 
Specially Crafted for Devour Indy  $14
HORSESHOES & HAND GRENADES   Finalist – 2022 Devour Cocktail Contest
Omega Altos Tequila, Mezcal, Kumquat Ginger Shrub, Fresh Pineapple Puree, Macadamia Nut Liqueur, Fresh Lime
SPICY RABBIT    Finalist – 2022 Devour Cocktail Contest
Pepper-Infused Absolut Vodka, Carrot Juice, Simple Syrup, Celery Bitters
NORTHSIDE SOUR – 2022 Devour Cocktail Contest
Woodford Reserve, Orgeat, Fresh Lime, Fresh Lemon