PARTICIPATING RESTAURANTS
---
Woodys Library Restaurant
An independently owned & unique eatery located in the historic Andrew Carnegie Library on Main St. Enjoy daily features & familiar favorites in a casual, family-friendly dining area, neighborhood pub downstairs or covered outdoor deck.
Join us at Woodys to enjoy this semi-annual opportunity. Our Devour Indy menu showcases our top sellers and familiar favorites. ​Vegan, vegetarian, dairy-free and gluten-free options are available too.
lunch menu
features your favorite sandwiches & tacos with a choice of side.
three-course value priced menu
Begin with soup, salad or a baguette basket, choose your entree & finish off with a sweet treat from our dessert bites section. You don't want to miss this!
40 E Main Street
Carmel, IN 46032
Sunday - Thursday 11am - midnight
Friday and Saturday 11am - 3am
The kitchen closes at
10pm Sunday - Thursday
11pm Friday and Saturday
Phone Reservations – (317) 573-4444
Additional Menu Options: Gluten-free, Vegetarian, Vegan, Dairy-free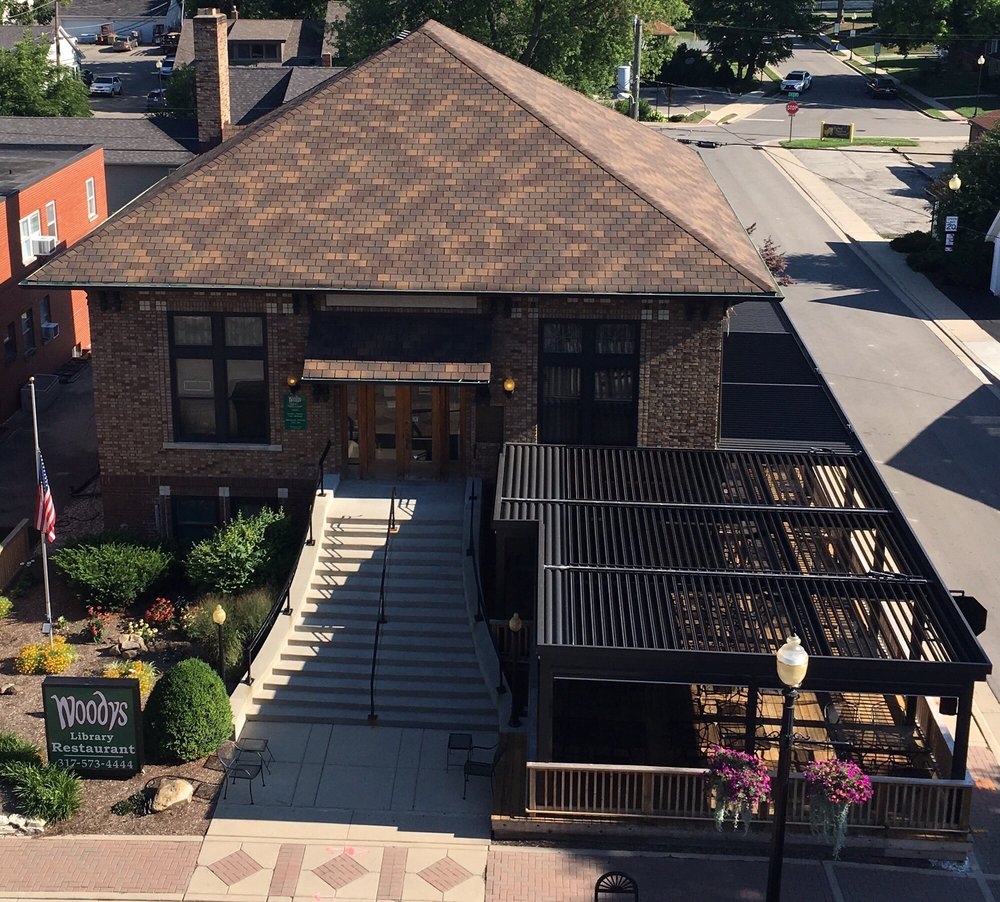 PORK TENDERLOIN SANDWICH
kettle chip crusted, blackened or grilled tenderloin on a brioche bun
ANGUS BURGER 
grilled 1/2 lb. patty with choice of cheese on a brioche bun
BUFFALO WRAP
chicken tenders, hot sauce, cheddar, lettuce, tomatoes, bleu cheese dressing & wheat tortilla
SALMON SLAMMERS
blackened crust, roasted garlic aioli & cabbage slaw on two petite buns
CRISPY CHICKS 
two petite buns, kettle chip crusted chicken & chile aioli
POT ROAST SLIDERS 
two petite buns, shredded beef, crispy onions & creamy horseradish
BUN-LESS OVEN BAKE Ⓖ
grilled chicken, spinach, Monterey Jack, onion, tomato & balsamic glaze
BLACKENED FISH TACOS
seasoned cod, Monterey Jack, Cajun ranch, lettuce & pineapple on flour shells
CARRIBEAN CHICKEN TACOS ⒼⒹ
jerk seasoning, guacamole, pineapple, lettuce, onion, tomato & citrus vinaigrette on corn shells
PULLED PORK TACOS 
guacamole, Monterey Jack, jalapenos, chile aioli & crispy onions on corn shells
QUINOA VEGGIE TACOS
Mexican sauteed quinoa, guacamole, red bell peppers, lettuce, jalapenos & sour cream on flour shells
choice of $25 or $33 per guest three-course value menu
COURSE 1: soup, bread basket or salad
SOUP CUP
Chef's Choice or Cheeseburger
 BREAD BASKET
Ⓖ substitute gluten-free mini rolls +$2
baguette slices & red sea salt butter
Ⓖ BLUE WEDGE
iceberg, onion, tomato, blue cheese crumbles & dressing
CAESAR SALAD
leaf lettuce, Parmesan, dried cranberries & oven baked croutons
COURSE 2: CHOICE OF ENTRÉE
$33 per guest selections
BISON MEATLOAF
honey chipotle barbecue, cheddar, crispy onions, mashed potatoes & sauteed green beans
Ⓖ FILET MEDALLIONS
grilled 6 oz of beef tenderloins, creamy horseradish sauce, mashed potatoes & buttered broccoli
$25 per guest selections
KETTLE CHIP CHICKEN
creamy herb gravy, chives, mashed potatoes & sautéed green beans
Ⓖ SEARED SALMON
6 oz filet, chile aioli, mashed potatoes & buttered broccoli
POT ROAST
red wine herb gravy, crispy onions, mashed potatoes & sautéed green beans
GRILLED PORK RIBEYE
Dijon cream sauce, chives, mashed potatoes & sautéed green beans
COURSE 3: DESSERT BITE 
a la mode +$1
MISSISSIPPI MUD
dense brownie, almonds, caramel, chocolate & whipped cream
Ⓖ CREME BRULEE CUP
classic vanilla bean, strawberries & caramelized sugar crust
BLONDE BROWNIE
caramel sauce & whipped cream
BAKED PEACH CRUMBLE
butterscotch glaze, candied pecans & whipped cream